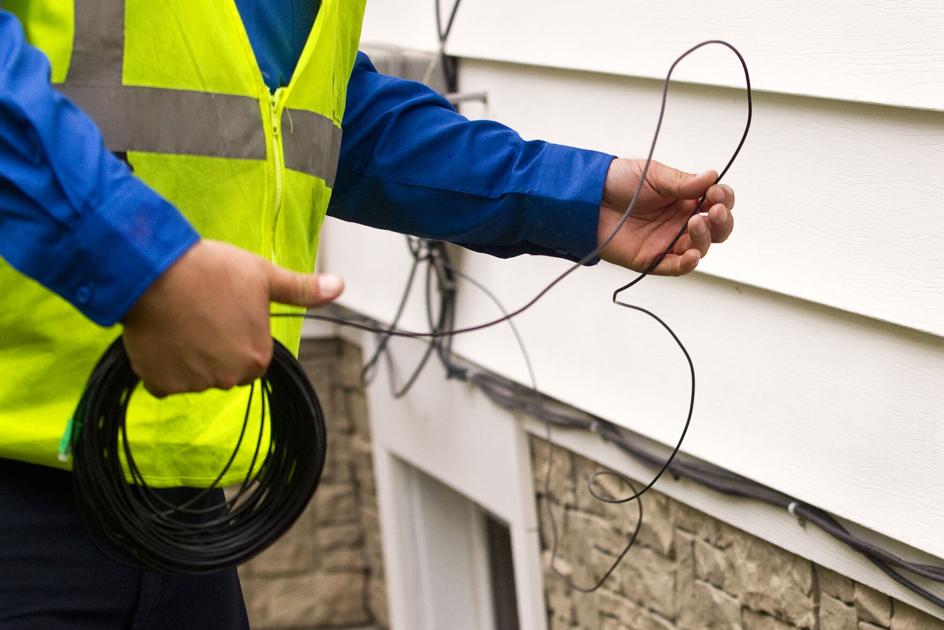 TRAVERSE CITY — During the long era when candles were a primary light source, an era in which William Shakespeare write plays and young Abraham Lincoln read the Bible, oil lanterns were luxurious innovations that many could not afford.
Decades later, with the flip a switch, another innovation — the light bulb — would deliver a new brilliance all its own.
Innovation and entrepreneurship always have powered advances in technology.
For those driven to light their own way in an ever-changing tech environment, 20Fathoms provides a multifaceted support of energy to help guide them through the shadows and uncertainties of an unpredictable business climate. In short, it offers packaged services so small companies can reap the benefits of big tech.
As an incubator for success — a road map, if you will — the Traverse City-based company guides dreamers and startup companies on a path to success by offering a multitude of professional, managerial and technological services, workshops, and more.
"We're more focused on technology businesses, but in terms of our networking opportunities, we have a number of opportunities that we can work with small businesses," said Lauren Bigelow, 20Fathoms executive director. "We're excited to … help expand our community, whether it's technology, or otherwise.
"We have some tech companies that are one person. We have one tech company of 45 people. When you're a founder of something, and you just have an idea, you're still a company."
Technology necessity
Keri Amlotte, director of marketing, said those who team with 20Fathoms already have one foot in the door of the technology department.
"Our membership is highly tech-savvy already, so we do not need to provide them with support in understanding technology," said Amlotte. "Instead, we provide business resources and startup support to help them grow their tech-focused businesses.
"20Fathoms support's northern Michigan's startup community, entrepreneurs, and tech professionals by providing resources that support business and career growth."
That support, said Amlotte, includes providing office space, talent acquisition, subject matter experts, networking, workshop and career support for software developers, technology and cybersecurity professionals, and more.
"We offer a broad range of programming for individuals who are just starting out in tech training, and those who are advanced and looking for continuing professional development," said Amlotte. "These programs are called TCcodes, which is for software developers, and TCcyber, which is for cybersecurity professionals, and helps to provide high-quality education for local tech professionals, while also building a workforce development pipeline for local businesses in need of tech talent."
Bigelow said "our next big thing" will be 20Fathoms 12-week HealthSpark program that will assist digital and telehealth companies, which was set to begin in mid-April.
That innovative program, said Amlotte, will support "… the advancement of tech innovation in rural healthcare … that will help them hone their business and healthcare knowledge, while vastly expanding their networks in order to grow their businesses."
Despite setbacks created by the COVID crisis, 20Fathoms is rebounding slowly but surely.
"We had about 67 (members), but with the quarantine, we fell," said Bigelow. "Now we're climbing our way back up to 60. Our office space was about 6,000 square feet, and now we've moved into a space of 10,000 square feet.
"Commercial real estate is a tough thing right now. We're waiting for people to feel safe, to come back into an office space. It's really about dealing with those issues around COVID that's been the most difficult. We're getting there, slowly. We were far busier in March than we were in January, and in January we were busier than we were in November, so every step forward has been helpful."
For more information visit 20fathoms.org; 10850 E Traverse Hwy Ste. 4400, Traverse City; 231 938-6519
Ups and downs
For Traverse City Light and Power (TCL&P), COVID shutdowns dimmed lights in commercial districts but caused them to burn bright in residential neighborhoods.
"The pandemic was an impact, of course," said Executive Director Tim Arends, who oversees the Traverse City-based, community-owned municipal utility of 43 employees and 12,700 customers. "We had so many businesses that had other things to worry about other than their cable provider, or Internet provider. Many of them closed. Then came trying to figure out how to reopen in a different way.
"So the timing for deploying (our fiber cables) was definitely impacted. People started signing up in October of last year for Light and Power fiber and that's when businesses were still shuttered, or just partially open, or figuring out how to reopen, so we didn't see as high of a take rate on the business side, as we did with residential."
Arends said in regard to the latter — residential customers saying yes to the company's fiber program — "… it ended up being more than we anticipated because so many people were working from home, so that offset (reduction of fiber connections to commercial customers)."
Compounding TCL&P's suddenly stunted coax-to-fiber delivery to its COVID-curbed commercial customers, another factor — seasonal in nature — quite literally blocked roads, too.
"On the commercial side in Traverse City, you're not allowed to work in the right-of-way from Nov. 15 through April 15," said Arends, "so we (had) quite a list waiting for hook-ups starting April 15, for TCL&P fiber, which is Internet and phone."
More information is available at tclp.org; 1131 Hastings St., Traverse City; 231 922-4940.
Wireless hookups
In the Goliath world of global telecommunications, one Benzie County Internet provider plays the role of David standing tall in the sparsely populated, broadband-thirsty countryside of northwest Michigan. Eclipse Communications of Benzonia "… specializes in engineered wireless distribution systems, high performance distribution arrays and point-to-point communications links."
"We're currently expanding our infrastructure footprint – we're expanding the areas we cover – and that's increased in pace as well," said owner Chris Varenhorst. "It's been a busy year for expanding quickly, and to deliver service where it's needed. It's been very much in full throttle, as opposed to last April and May when the lockdowns forced stores to close down and a lot of people were asked to do their jobs from home.
"Broadband has been important for sometime now, but the situation with COVID really shined the light on multiple socioeconomic issues that people had living in rural areas: school became largely remote. The family that didn't have adequate broadband service would have to go to a library, or a guest network, even the local pub in certain situations. And a lot of people, (to do) their jobs, started telecommuting as far as being able to remotely connect to work.
"There's been a very bright light shown on the inadequacies for the rural areas all over northwest Michigan," said Varenhorst. "Our focus is in that regard. There's been a tremendous amount of people needing internet service as soon as possible. All of us are proud of the work we've done, so far, but we also acknowledge that we've had a lot of support from a lot of organizations, companies and institutions. There's a great amount of synergy between how we operate as a company, and the local community support that we have … in our distant or hard-to-reach areas."
For more information, visit eclipse-communications.com; 2532 Benzie Hwy #9710, Benzonia; 231-421-6279.