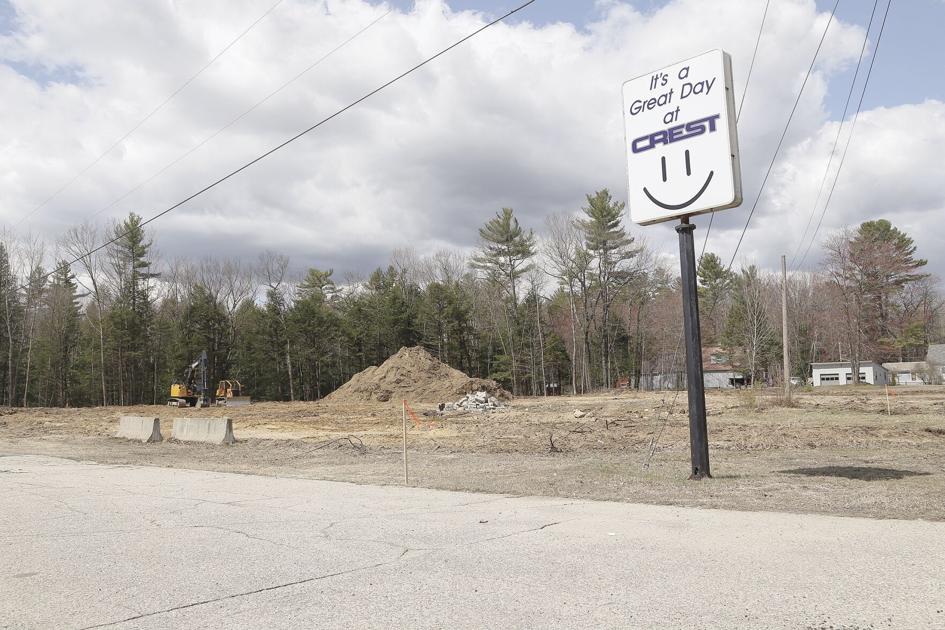 CONWAY — The Conway Planning Board is scheduled to conduct a site-plan review Thursday of a proposal by the owner of Crest Auto World to build six storage buildings on a parcel next to the dealership at 802 Eastman Road in Redstone.
Crest also plans to build a 5,000-square-foot garage for personal use as well as the 34,800 square feet of storage space on the 4-acre lot.
The lot was cleared of shrubs and trees approximately three weeks ago, according to Chris Weiss, Crest owner and general manager.
The commercially zoned lot contains an old truck equipment building that will be razed as part of the proposal, Weiss said.
As part of the site-plan review, Weiss' company, Wilmark LLC, is also requesting a lot merger to merge PID 245-3, 4, 5, 5.01 and 6 to one lot of record.
He said the proposed facility will consist of about 260 self-storage units.
"I did a feasibility study and determined there is a need for this type of self-storage facility because the existing ones are full," saod Weiss. "So I feel there is a demand and that it is a straightforward business."
He said one plus is it does not require a lot of staffing.
"I am looking at automated systems to make it easily accessed to folks, and it doesn't require a lot of interaction with customers and staff," Weiss said.
He said he had spoken with neighbors to the north and that they had not raised objections to the project.
"They understand it is commercial real estate. Noise and traffic congestion is pretty light with this versus with a fast-food restaurant or something else. It's a pretty low impact use," he said.
Other self-storage units in the area include East Conway Self Storage in East Conway; Mountain Valley Self Storage in Intervale; Riversong Self Storage in Intervale; the Glen Warehouse in Glen; and T-P Self Storage in Madison.
At the meeting starting at 7 p.m. at the new Conway Town Hall, the board also is scheduled to act on a request from Cranmore Mountain Resort for a concurrent site-plan review and subdivision review for development of Phase III of the multi-year Kearsarge Brook master development plan for the base area.
Becca Deschenes, marketing director for Cranmore Mountain Resort, says the next phase will include Fairbank Lodge, consisting of 15 residential condominiums and new ski facilities for resort guests.
Also, following the results of town meeting voting April 13, in which former chair Steve Hartmann was voted out, the board will elect a new chair, vice chair and secretary.
There were two races for planning board. For the three-year seats, Ben Colbath was returned to the board and Erik Corbett won Hartman's seat with 870 and 688 votes, respectively. Hartmann, who asked voters to consider putting new blood on the board, received 385 votes.
Steven Steiner, an alternate to the board, received 342 votes.
For a two-year seat being vacated by Earl Sires IV, who is moving out of the valley, Ted Phillips, alternate Raymond Shakir and Eliza Grant ran, and Grant won with 675 votes, followed by Phillips with 283 and Shakir with 270.
Interviewed after the election, Hartmann said he plans to stay involved as a member of the public, attending important meetings and offering his comments when warranted on major projects such as the proposed Viewpoint North Conway hotel in Intervale or the Tractor Supply on the North-South Road.
Hartmann served on the planning board for 12 years.
"I just feel that it with new blood, there may be some fresh ideas. Look at what Earl Sires brought to the board — I just think it will be good," said Hartmann.
Selectmen's representative and former longtime planning board chair Steve Porter said there is a possibility Hartmann could be appointed as an alternate should he be open to that possibility.
"He brings a lot to the plate," said Porter on Tuesday.