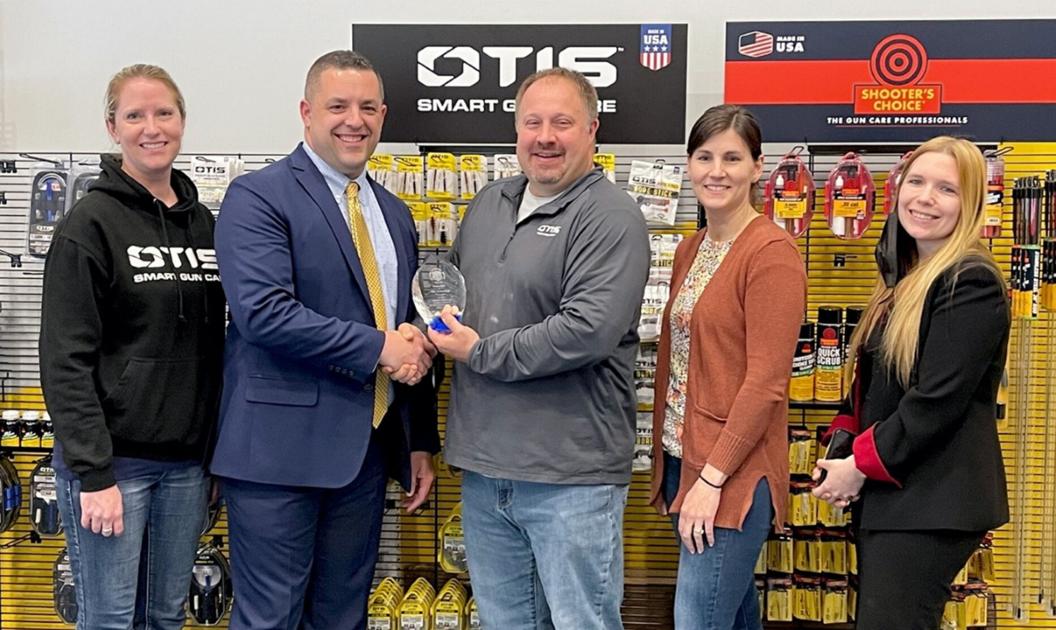 LYONS FALLS — When COVID-19 took the nation by surprise and severely challenged our health care system, companies large and small switched gears and retooled to produce desperately needed personal protective equipment (PPE) to keep frontline workers and first responders safe. The Police Benevolent Association of New York state recognized Otis Technology on April 21 for its contributions and sacrifice to this effort.
Otis Technology took its experience in manufacturing state-of-the-art firearms cleaning and maintenance supplies and applied it to producing PPE including surgical masks, disposable face shields and hand sanitizer. Recently, Otis Technology donated nearly $100,000 in PPE to the PBA of New York State to protect its members and to share with the public at large. These donations were distributed to PBA member agencies, emergency services in Ulster and St. Lawrence counties, and nearly eight pallets to New York state to distribute as needed.
In recognition of this contribution, and commitment to public safety, the PBA and its members held an appreciation event at Otis Technology's facility in Lyons Falls where they presented CEO Larry Williams, Law Enforcement Sales Rep Mollie Martin, and Director of Marketing Heather Pleskach with a plaque memorializing the PBA's gratitude.
"When COVID hit, it didn't care who you were or where you lived," PBA of New York State president Ryan Law said. "It is truly impressive that a small upstate business like Otis Technology was able to so quickly pivot and meet the needs of our officers and frontline workers by providing equipment to keep them safe as they fought to protect our communities. While businesses exist to make money, companies like Otis Technology prove that the true bottom line is the welfare of our neighbors."
"When we set out to manufacture and procure PPE, we made the additional commitment to donate a portion to those in need," added Otis Technology president Larry Williams. "Throughout the pandemic we've made donations to various organizations both locally and across the country in order to support our front line workers and keep them properly protected. With our core business, we had a relationship with the PBANYS and were able to recognize and support them as they looked to ensure their law enforcement personnel were adequately protected while on duty working vaccine sites."
As New Yorkers work together to ultimately defeat the COVID-19 pandemic, it will take the combined efforts of citizens taking proactive measures, businesses meeting the demands of the health care industry and consumers, and the selfless sacrifices of frontline workers and first responders. The PBA of New York State extends its thanks to New York's residents and businesses for pulling together in this time of need.