Big plans await the blank wall.
Made from planks of recycled wood that have been stained, the wall is in a narrow hall that separates a cafe from a cat lounge at Nine Lives Cat Lounge and Adoption Center. At the end of a hall is a bench with the word "ADOPTED" in large capital letters.
That's where people can pose for a picture with a newly adopted cat, said Sierra Roper, store manager of the lounge. Those pictures will be posted along the blank wall.
"Hopefully we can fill that up in a year," Roper said.
Set to hold its grand opening Monday, Nine Lives is a new business that combines frothy fuel with feline friends. Customers can come in for a variety of traditional coffee drinks or smoothies made with mostly local ingredients, then enjoy that beverage in the company of cats.
While the business won't offer cat adoptions for another month, customers can still hang out with at least 20 feline friends. It will also offer cat care supplies and treats, including catnip.
Living room as adoption center
The lounge is a cat's dream: Scratching posts are located liberally around the room. Systems of shelves allow cats to climb and perch from a high place. Plenty of furniture is available for humans as well, from traditional dining chairs and tables to comfy couches. One of the corners features a large selection of games and some books. A TV is available on another wall.
In the back of a room is a door with two cat doors at the bottom. That's where cats can enter to eat or use a litter box.
"My favorite spot is the cozy corner," said Tiffany Buck, who with husband, Jon, owns the cafe. "It just makes you feel like you are at home. You can enjoy sitting down and have all the cats come and lay on you."
The idea is to offer a space for cats that looks like a living room. Roper said that traditional adoption centers usually have to keep cats in cages until being taken to a visiting room to meet with potential adopters — that arrangement doesn't let the cat adjust to a homelike environment.
Customers can enjoy the clowder of cats, doting over toe beans alongside their coffee beans. and if one of those fuzzballs makes a good impression, it can be adopted.
The business has partnered with Joplin Humane Society to create a standout animal adoption center. Connie Andrews, director of the humane society, said the shelter microchips, vaccinates and spays/neuters the animals staying at the cafe — the vaccinations include one for feline leukemia virus and for feline immunodeficiency virus.
The Bucks, inspired by visits to a similar business in Kansas City, have also incorporated details from a similar idea used by the humane society.
"We fell in love with the idea when we went to Whiskers (in Kansas City)," Jon Buck said. "There was a lady up there with a daughter who was autistic, and interacting with cats was one of the only times she would vocalize. We wanted to bring that to Joplin."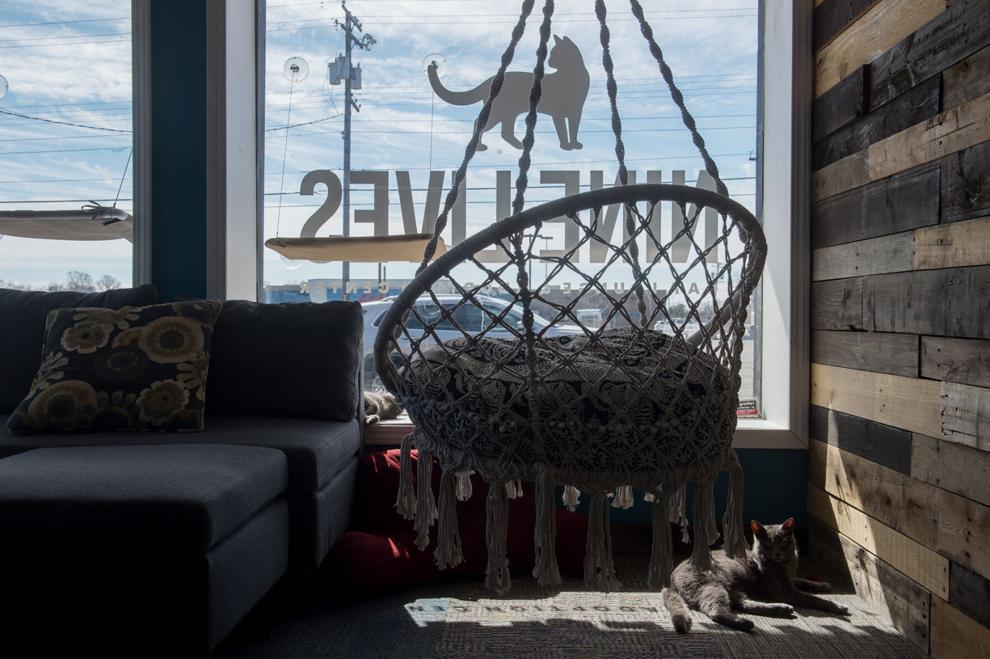 Needed partnership
About two years ago, the Joplin Humane Society opened up Tiny Tigers, a cat lounge, for about a month inside a space at Northpark Mall. Customers paid $5 to spend 30 minutes with a kindle of kittens.
Andrews said the idea drew fantastic reactions from customers. But a lack of personnel and the pandemic prevented future Tiny Tigers sessions.
"We wanted to try it for about a month to see if people were interested, and they were very interested," Andrews said. "But we didn't have the manpower to keep it going. We wanted to open up another pop-up last year, but then the pandemic hit."
Andrews said the humane society may still open up its pop-up shop later this year. But it won't be a competitor to Nine Lives because there is no shortage of adoptable cats.
The center is often swamped with cats, Andrews said — they do not get adopted as quickly as dogs.
The living room model also improves the rate at which cats get adopted, Jon Buck said.
"It's a totally different environment that increases a cat's chances of getting adopted by 63%," he said. "It's because it's a stress-free environment. You can see how they actually are when they have room to run around."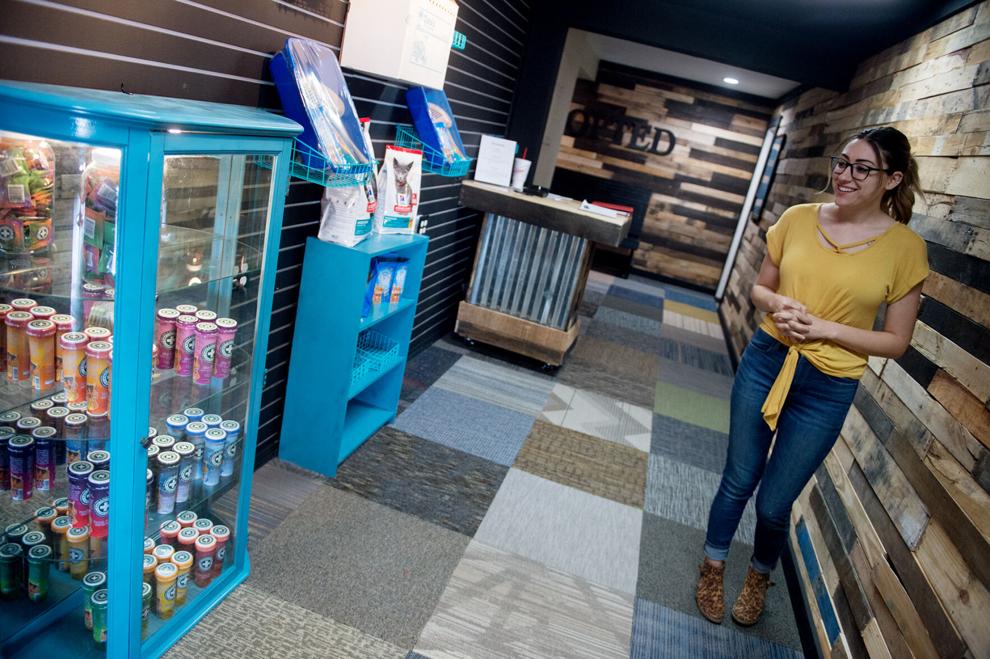 Bright future
The couple sees a lot of potential for the concept to grow. A few days before the grand opening, the two felt excited about opening their doors to the public on Monday.
This will be the first time Tiffany Buck has opened her own business but the latest of many for Jon Buck, the former owner of JB's Downtown, Work Fresh and other ventures. Nine Lives is the least nerve-wracking one he has opened, he said.
The couple, Roper and a handful of others have been working on finishing the building since July. When opened, they will employ six others, with everyone on staff able to either create coffee drinks or corral cats.
Jon Buck said the cafe's offerings of coffee and smoothies will be healthier versions of what is found in a traditional coffee shop, without the use of processed sugars or excessive carbohydrates. Most ingredients come from local sources — that includes the coffee, roasted by Bearded Lady Roasters and Front Rack Coffee Co.
The idea is to create a place where it's impossible to leave without feeling content and happy.
"I poisoned a lot of people," Jon Buck said of his former bar. "I'm not saying I forced them to drink. But with this, we wanted to create a completely positive atmosphere."
Tiffany Buck said the lounge could open up for special events outside its normal operating hours, giving kids or other groups chances to hang out with the cats.
Currently an assistant manager for Aldi Food Stores, Tiffany Buck said they hope to provide a blueprint for more locations in the future.
"I come from a corporate structure, so I've structured the back end like a corporation," Tiffany Buck said. "We made this to be franchiseable, so that we could eventually franchise out."