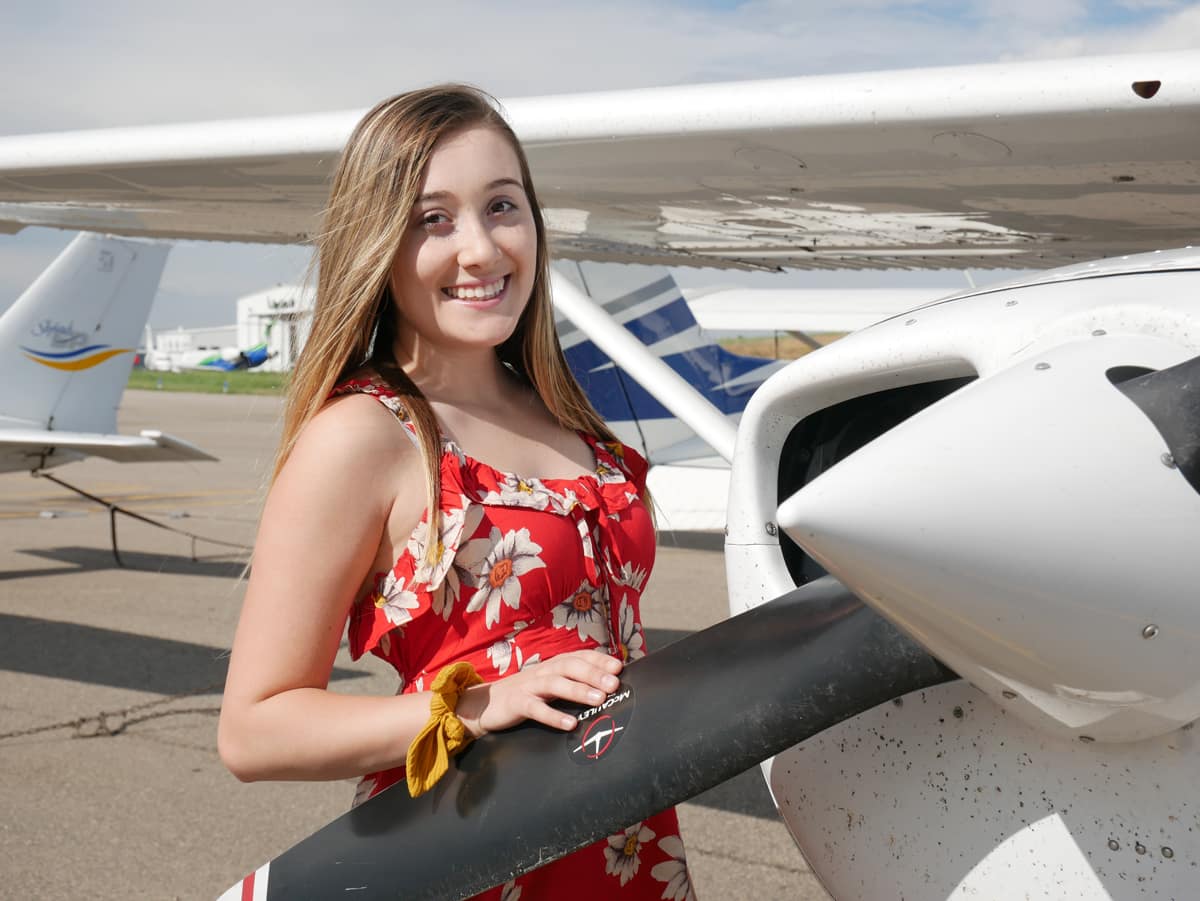 Sabrina Meiklejohn hasn't quite finished her undergraduate degree at Embry-Riddle Aeronautical University, yet she's already in demand because of her experience in international marketing. 
Meiklejohn, a senior in Aviation Business Administration on Embry-Riddle's Prescott Campus, gained that experience in a business consulting course that assigns student teams to actual companies to provide market research and other business services. 
After leading a team that researched the U.S. market for Tripod House, a Norwegian firm that makes affordable, eco-friendly modular houses, Meiklejohn was hired for a paid internship by Aeromobil, a Slovakian company that has made a prototype of a flying car with retractable wings. She said her Embry-Riddle consulting experience made her Aeromobil's choice. 
"They saw my resume and said, 'Oh, that's exactly what we want you to do,' " Meiklejohn said, referring to the U.S. market research she did for Tripod House. 
Embry-Riddle's business development consulting program began more than 20 years ago on the university's Prescott Campus. Initially, it focused on small, local businesses. Now, it has expanded to multinational companies and foreign firms, and this semester, nine of 12 ongoing projects are with companies in Europe, especially the Nordic countries. Two of the program's developers, business faculty members Richard Gibson and William Paulin, have worked as consultants to companies all over the world. 
Last semester, the program initiated projects in which students from both Embry-Riddle campuses collaborated, and nine teams, representing 31 students, are working with Norwegian, Finnish and Swedish companies, The Boeing Company and two other local companies. The interaction with foreign companies and the collaboration between campuses, all of which occurred remotely, fit seamlessly with the restrictions imposed by the Covid-19 pandemic. 

Students in Embry-Riddle's Aviation Business Administration course, from both the Daytona Beach, Fla., and the Prescott, Ariz., campus, meet virtually with international clients to offer business consulting services. (Photo: Embry-Riddle)
"We're obviously in the middle of Covid. The world is different, the classes are different," said Jennifer Hinebaugh, assistant professor of Management, who is helping lead the program on the Daytona Beach Campus. "But for me, the coolest thing about this course is you're working with a client on another continent and students in other places. This is something outside students' comfort zone. It's critical thinking about real-world problems." 
"The projects hit on key themes for Embry-Riddle, including sustainability, electric mobility, next-gen technology and innovation," added Thomas Drape, interim dean of the College of Arts and Sciences and the College of Security and Intelligence on the Prescott Campus. "These really are world-class projects." 
The excellent experience that Meiklejohn gained through her work with Tripod House was not easily won. To access the U.S. market for the project, she and her team first contacted contractors in every state. Having reached out to 101 individuals, only two were willing to talk, and even those showed little interest. Meanwhile, their client needed the market information to vie for a startup grant in Norway. With just two weeks left before the client's deadline, Meiklejohn and her team had to get creative, turning to Reddit, Facebook and other social media channels to try to assess interest in the Tripod House dwellings. Tiny house influencers and communities — impressed with the product's ability to be relocated to meet family needs, eco-friendliness and off-grid usability — lit up in locations all over the country. 
"We had more than 1,000 responses from real consumers who were ready to purchase," said Meiklejohn. "Our client was so happy with our project because she could see the tangible data." 
This semester, Tripod House has again signed on with an Embry-Riddle team of consultants. This time, they'll help research materials options and supply chain logistics for bringing the houses to the United States. 
Meiklejohn's team's victory is just one example of the program's many successes. 
"This is real-world consulting experience that most colleges don't provide to their students," said Ahmed Qureshi, a senior in Aviation Business Administration at the Daytona Beach Campus, who has been working with a Swedish company. "It allows students to be more prepared for the workforce and gives us a leg up over our job pool competition." 
Having completed two projects in the program, Sierra Fennell, a senior in Global Business Supply Chain Management on the Prescott Campus, is hooked on marketing and consulting, and seeks a career "focusing on helping businesses to succeed by bringing their mission and product to the audience they seek." 
Mary Catherine Kreider, a senior in Business Administration, said she has had real-world work experiences in two internships, but the international consulting program called on all of the skills she has learned at Embry-Riddle. 
"I've had to use something from every class I've taken," Kreider said. 
John Longshore, associate professor of Management, who is one of the program faculty on the Daytona Beach Campus, agreed that the program helps students integrate their skills. 
"These are students drawing knowledge from different classes like project management or marketing or human resources in order to work well with a client," said Longshore. "They're having to pull from all those classes, form a team, have a team sort of gel, talk to the client, put together a scope of work, talk to the client, execute a scope of work, have deliverables and put a schedule together." 
Meanwhile, clients are thrilled with the students' performance. 
"As a start-up company with limited bandwidth, working with the student consulting team enables us to cover a lot more ground," said Norwegian Halvor Vislie, of Hydrolift electric ferries in Oslo. "We are based in a relatively small market, but our ambitions are global. As such, having the Embry-Riddle team on our side means we can acquire detailed insight into new markets, and get documented recommendations as to where we are most likely to succeed and why. The recommendations we received after our first project have already led to concrete actions and discussions and we are confident the same will apply as we conclude an ongoing project in a few weeks." 
Olav Larsen, of the Norwegian airport authority known as Avinor, said his company is currently working on its third project with Embry-Riddle. 
"We are deeply impressed by the quality of the work carried out and basically interact with the students the same way we would interact with other consultants. Being based in Europe, it is especially helpful for us to get a deeper understanding of technological and market development in the United States, and Eagle Consulting really manages to do that for us." 
Erika Krøvel, of Krovel Yachts, said her company did not know what to expect of the students before their first project last year. 
"I had hoped that we maybe could have some of our own research/market insight confirmed by the students," she said. "The fact is, they really exceeded my expectations by far … and surprised me with a lot of new 'intel' and market studies. I remember at the first midterm presentation I attended, I thought, 'Wow, these guys have really done a proper piece of work.' This was something we could use for real." 
Paulin said working with real clients promotes tremendous growth in the students. 
"These projects provide good things for the clients and great things for the students, who learn how to be professional and effective in working with clients," said Paulin. "To see the students grow and gain confidence is just amazing."
Posted In: Business